Homeward Bound Treasures
35 Golden Street, New London, CT 
Phone: 860-444-8800
Hours: Tuesday - Saturday 12 pm - 6 pm
CLICK HERE to go to store page
ALL PROCEEDS WILL GO TO RUNNING HOMELESS PROGRAMS
Our Major Funders
Barrett Family Foundation
Bodenwein Public Benevolent Foundation
Community Foundation of Southeastern CT
Dime Bank Foundation
Liberty Bank Foundation
Electric Boat Employees Community Service Association
Frank Loomis Palmer Fund
Peoples United Bank Foundation
Savings Institute Foundation
Mary Shea Perpetual Trust
George A. and Grace L. Long Foundation
Wal-Mart Foundation
Mystic Woman's Club
Department of Social Services
Emergency Food and Shelter Program (FEMA)
Community Development Block Grant Program
---
If you would like more information about our funding, please CLICK HERE
To serve as a bridge out of homelessness by helping our guests pursue their self-selected path to permanent housing.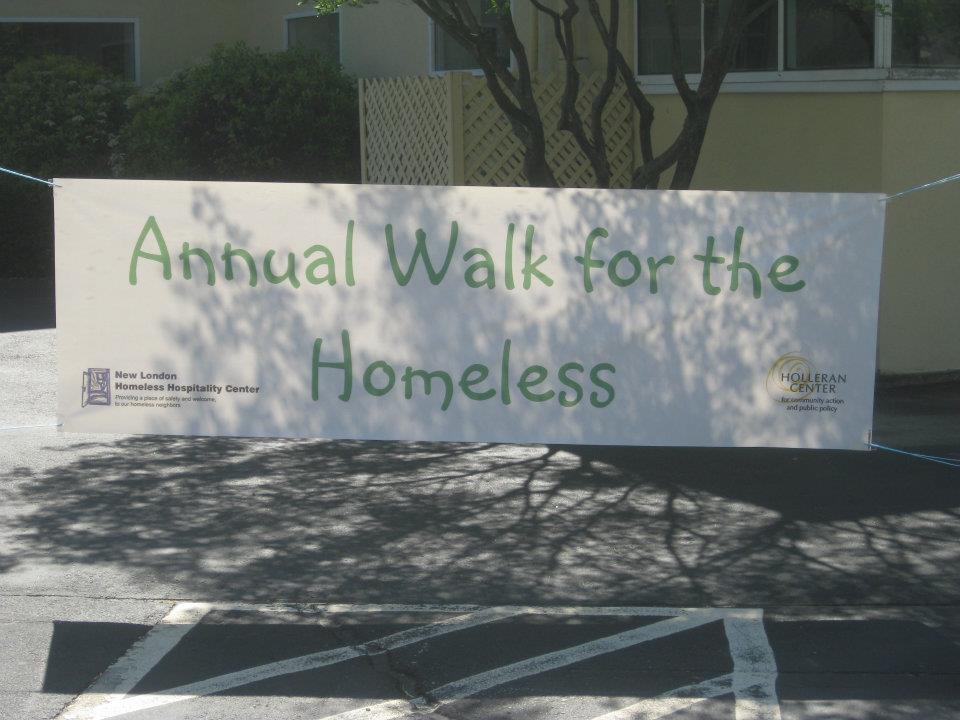 6th Annual Walk for the Homeless
When: Sunday, April 28, 2013
Where: 327 Huntington Street, New London, CT
Time: 2:00pm
The 6th Annual Walk for the Homeless is a community-wide event to shed light on the issue of homelessness, and raise funds for the New London Homeless Hospitality Center. The walk will be on April 28, 2013 at 2 pm, promising a day full of fun, food and entertainment. Within the last year, the NLHHC has provided both overnight and day shelter to more than 53,000 people. With the stability of a warm and welcoming shelter, individuals of the NLHHC are encouraged to quickly reconnect with housing, and the world around them. All funds raised will support the NLHHC. Please join us in our walk to end homelessness, and register today!
---
Shelter
A Night Shelter
At night, we provide a shelter for single adults. Our goal is to provide a place of rest and safety. While the sleeping arrangements are simple—a bunk, sheets and a blanket—we strive to provide a setting that is welcoming and dignified. Having a place to stay keeps people safe, and helps them regain the stability to work toward returning to permanent housing. On an average night, we provide this place of safety for about 50 men and women.
The Overnight Shelter is located at St. James Episcopal Church at 76 Federal Street. Guests can enter the shelter beginning at about 7:00 in the evening, and must leave the shelter by about 7:00 the next morning. Each guest is provided with a small storage space in which to keep his/her personal belongings.
A Daytime Hospitality Center
During the day, we offer a hospitality center where our homeless neighbors can find sanctuary and practical assistance. The Hospitality Center helps address some of the practical aspects of being homeless—getting mail, taking a shower, finding a place to sit in cold weather. The Hospitality Center, also works to link people with the resources they need, to return to permanent housing. On an average day, 80 people visit our Daytime Hospitality Center.
The Daytime Hospitality Center is located on the lower floor of the old home of the All Souls Unitarian Universalist Congregation at 19 Jay Street. We are open from 8:30 to 4:30 every day, except Sunday.
Board Officers: Rev. Carolyn Patierno, Rev. Michael Belt, Mary Lenzini
Board Members: Tom Clark, Susan Hermanson, Paul Jakoboski, Chris James, Judy Mann, Akil Peck, Kent Sistare, Ron Steed
If you are interested in joining our e-mail list to learn about upcoming events, programs and news, please email us at hhc.volunteer@gmail.com. Privacy is important to us; therefore we will not sell, rent or give your name or address to anyone.
Join us on